1988-1995 GMC K3500 CARGO CARRIER (HAULER RACKS HEAVY DUTY BRIGHT DIPPED ANODIZED ALUMINUM VAN RACK - 1200 LBS. CAPACITY)
Priced from:
$639.97

+ Free Shipping
Product Number: 18634G
Vehicle Information
1 Item Available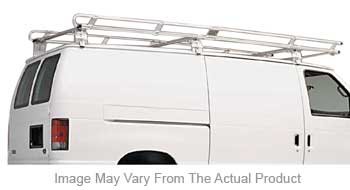 ALUMINUM HAULER FULL-SIZE VAN RACK GUTTER MOUNT 1200 LBS. RACK CAPACITY - REMOVABLE
Brand and Manufacturer #: Hauler Racks V11SEV-1
Capacity: 1200 lbs.
Mounting Location: Gutter
Product Fit: Direct fit
Show More
| Submodel | Engine | Fitnote |
| --- | --- | --- |
| All Submodels | All Engines | Fits all 1979-1986 1988-1995 GMC K3500 |
See Fitment Details for All Submodels
Our Price:
$639.97 per sold individually
ALUMINUM "HAULER"" HEAVY DUTY VAN RACK - 1200 LBS. CAPACITY
Anodized and Bright Dipped all Aluminum Van Rack - WILL NOT RUST!
Available as a removable mount - clamping on to your vans rain gutters or permanent mount - attaching to vans roof - for vans without rain gutters.
1200 lbs. Load capacity - our strongest Van rack.
Four Heavy Duty cross rails for maximum load capacity and flexibility - especially for shorter ladders and equipment.
Heavy Duty design for optimum structural integrity.
Fits All Full-Size Vans and Mini-Vans (Mounts to top of Van with drip well - removable) or (Mounts to top of Van Roof - permanent)
1 year warranty"